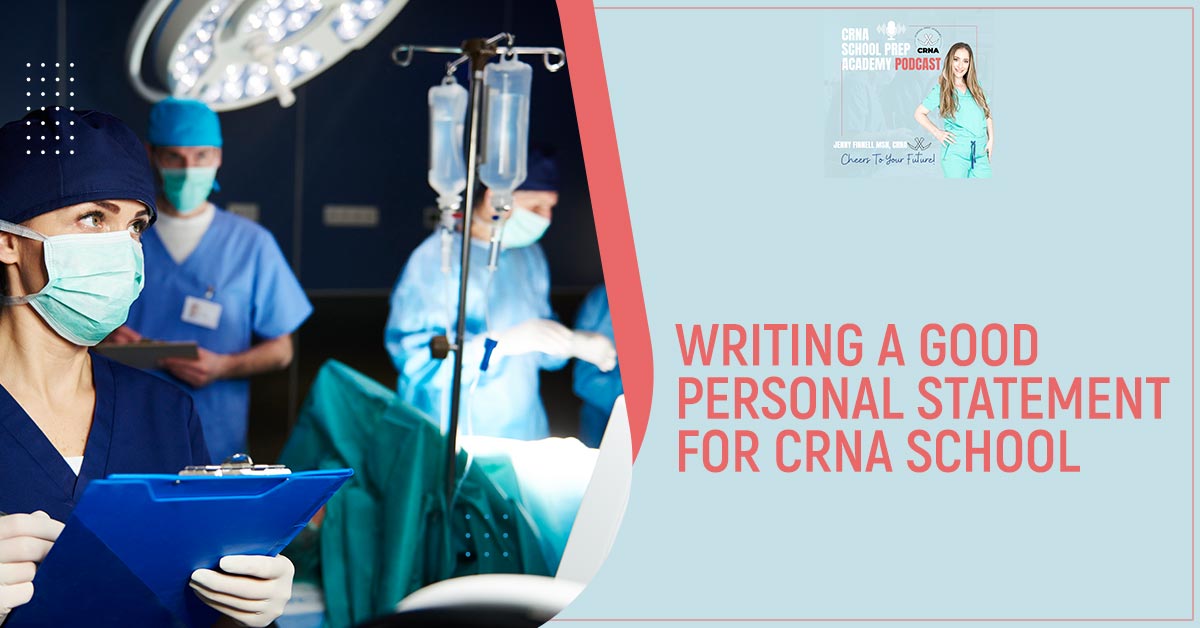 Even before an interview, a good personal statement can already reveal much about you. Though the essay that you write for each school may seem like just a small part of the application process, it still plays a significant role in making yourself stand out as an applicant!
Whether you are an adept writer or a beginner at writing, today you'll learn how to let yourself shine through!
In this episode, you'll learn more about –
Why programs ask you to write a personal statement and how it can greatly affect your acceptance
Some important tips and tools you can use on how to efficiently write and improve your essay
How you can make your statement stand out from the rest of the applicants
Why having English as a second language or not being a very good writer should NOT be a deterrent to creating a well-crafted personal statement
Knowing why proofreading is very crucial before submitting
Avoiding common mistakes
The benefits of utilizing the academy forum for you and other students
We believe you can succeed as a CRNA, and we are dedicated to giving you the best support you need. Cheers to your success, future CRNA! We're rooting for you!
Get access to planning tools, valuable CRNA Faculty guidance & mapped out courses that have been proven to accelerate your CRNA success! Become a member of CRNA School Prep Academy here:
https://www.crnaschoolprepacademy.com/join
Book a mock interview, resume edit or personal statement critique:
Join the CSPA email list: https://www.cspaedu.com/podcast-email
Send Jenny an email or make a podcast request!
Hello@CRNASchoolPrepAcademy.com
—
Watch the episode here
Listen to the podcast here
Writing A Good Personal Statement For CRNA School
In this episode, we're going to get into how to write a good personal statement for CRNA school. First, why do they have you write a personal statement? What's the purpose behind writing a personal statement? As you may know, your interview is only one piece of the puzzle. Sometimes it's only 10 minutes long, maybe 15 or 20 minutes.
Some schools, I've heard of 30 minutes, 45 minutes, but the vast majority of schools only spend a short period of time interviewing you. They use your personal statement as another way to gauge your personality as well as your writing style. Your personal statement is for them to assess who you are as a person, get to know you, and assess your goals, educational background, work ethic, and writing style.
Remember, you're entering into a Doctoral degree. There's going to be a lot of graduate-level writing involved in getting your Doctoral degree. They want to assess your writing skills and word choices, whether it's unprofessional or if you're more of a conversational writer, which is the problem I have when I write. I write like I'm talking to you in person versus writing. Be aware of where you may lack and address these areas before starting your statement.
We'll get into how you can do this and some resources for you to utilize to make sure that you're looking over your writing prior to submitting that personal statement. Some of the things to point out, as far as looking at your writing style, they will think, "Is this student going to need a lot of guidance and help to get them up to speed, to be able to succeed at writing this paper?"
Let's say they have two candidates who are relatively about the same interviewed and scored about the same. While one of them has a good personal statement, the other one is mediocre. They may lean on the student who had a better personal statement, knowing they're going to need less help and less guidance to do all the Doctoral writing involved in the program. I'm not trying to discourage you if writing is not your strong suit.
Know that you need to make sure you make your personal statement strong. When you're in school, you're going to have to rely on additional resources to make sure you're getting extra help in proofreading where you need it. It doesn't mean you can't do it. It means that you're going to need some extra help, and you need to identify that prior to submitting your personal statement.
To also point out, we've had students whose English is their second language. They've needed 3, 4, or 5 edits on their personal statement, and they still get into school. May they require some additional help during all their writing? Yes, but now they know they can get assistance. They can get someone to proofread their papers for them and help them where it's necessary.
Red Flags
I don't want to make you feel like this is not possible if English is not your strong suit. You can do this. You just have to be aware of the possible help you're going to need along the way to accomplish the goal. That's been addressed. Let's get into the structure and some red flags that I want to point out. Students sometimes make themselves sound like they're good writers.
Sometimes what they do is inflate their verbiage, meaning they use these big vocabulary words. They think that the more big words they use, it will make them sound smarter. The problem is if you don't truly understand the word, not only is it going to become difficult to read quickly, but let me also remind you that these programs are getting 150 to 200 applicants or more sometimes.
They have a lot of essays to read. If it's difficult to read, you're automatically going to trigger something in their brains and say, "I need to be able to read this efficiently and quickly. They're using many fancy words that I have to slow down and ask myself, 'What do they mean by that?'" The reason why I want to bring that up is so that you will be aware of the word choices you're using and use language that aids in your descriptions, but will also be cognizant of the flow of that and how difficult it is for someone to read quickly and get the gist of what you're trying to say.
Richard Wilson, who does guided Q&As inside the academy, pointed out that sometimes it's not about the word. The word definition matches, but it might be used out of context a little bit. You may have to be aware that even if the word definition fits what you're trying to describe, maybe it's not used in the best context or the best flow for the sentence.
I also want to point out that you need to proofread. It looks sloppy if you make pretty basic grammar errors in your essay. It shows them that you didn't take the time to do your due diligence essentially to proofread the paper prior to submitting it. If that means getting help to do that, or reading it over when your eyes are not fatigued.
Sometimes I read something and put letters where they should go, which is my brain, but I didn't write that down. Especially when I'm fatigued, I tend to do that more frequently. I miss little, tiny errors that I've made. If you haven't used something called Grammarly, I highly recommend you do that, but that isn't everything. There is a free version of it. While it's amazing unless you pay for it, you can only get so much out of it. It shouldn't replace a good proofread, but it's a good place to start.
You can install it on Google Chrome. Make sure you're doing that for your first proofread, for example. Also, I've noticed when you take documents and put it into a Word doc, Google doc, or whatnot, it will do some proofreading for you, but it can flip words that you may not even catch because maybe your spelling was off a little bit and it will pick a word that's similar, but maybe it's so similar that you didn't catch it.
You have to be careful about that too. You think you're correcting a misspelling, but in reality, you're completely changing the word altogether. Maybe your brain doesn't recognize that right away because it's similar to the word that you wanted to say. You have to be careful. Don't rely on spell-check and Grammarly to do everything for you.
Making Mistakes
You still need to put second eyes on that paper, walk away, and come back. Yes, you need to proofread. I want to take this moment to also share with you guys a story from one of our students because another thing that can happen too is when you're writing multiple personal statements, sometimes you may make a mistake and leave in the wrong school name for example.
[bctt tweet="If you make a mistake, speak up, learn from it, and move on." via="no"]
Maybe you express how you'd be a good candidate for school X, and you submit that personal statement for school Y. Even though it was relatively the same prompt, and you updated the prompt to match, you left in the wrong school name. That happens probably more often than I would even realize it happens. It's easy to do.
Let me share with you this because this is from one of our students. I thought it was a great takeaway, "Jenny and CSPA family, I want to take time out to thank everybody who was a part of this community. This is my testimony to the effectiveness of the program. Back in June of 2021, Richard helped me write a concise and thoughtful letter of intent. This letter, along with my decent stats, got me interviews at 2 out of 3 schools. I used the content in the CSPA library and the resources on the site to prepare for my interviews."
"I was offered a seat on the spot during my first interview. The second program also offered me a seat two weeks after my interview. I want to pause here and mention the importance of being honest, prepared, and not letting your mistakes define you. I sent my letter of intent with another school name on it to the program that offered me a seat on the spot."
"Many people told me to forget about ever getting into that program. Instead of giving up, I wrote a letter to the director of the program, explaining my mistake and showing her that I take responsibility for my actions. In the interview, she later told me that my honesty and willingness to take responsibility for my actions without making excuses is why she wants me in her program."
"I owe my acceptance to this community. During my second interview, I was able to interpret graphs that I saw in one of Richard's presentations. The interviewer told me I was the only one who was able to correctly interpret the data out of so many applicants. Thank you, Jenny, Richard, and everyone in this community. I look forward to using CSPA resources and crushing CRNA school."
First, I love everything about it. The takeaway from this for you is the fact that this student had to own his mistake. He did this. He put the wrong school on his personal statement and sent it. He still got offered a spot during this interview, which is amazing. There are a couple of takeaways from this. One, he owned his mistake. There are probably plenty of students who make this mistake, who are fearful.
Plenty of people told him to walk away, to give up on that school. It's not going to happen. He made a mistake, and he's got to live with it. Instead, he was like, "I don't want to end that way. I have to at least let them know that I'm aware that I made a mistake." That's what these schools want. They want a student who has a voice to say, "I messed up. I'm sorry."
That's important as far as your attitude. That's what they're looking for in a candidate. It's not all about your ICU background, 4.0 GPA, etc. They want to see that personality characteristic that you're going to take ownership of when you make mistakes. I also love the fact that he was well prepared for his interviews, and that is also clearly displayed in his interview skills.
Not only did he fess up and take ownership for his mistake, but he adequately prepared for his interview. I want to share that with you because I thought it was touching. If I'm speaking to you, mistakes happen. I also had shared a story of mine that originally, when I reached out to one of my programs I applied to, I was trying to see how it could stand out as an applicant, trying to see how it could be more competitive.
I interviewed the program director and addressed him informally, meaning that instead of saying, "Dear Mr. So-and-so," I said, "Dear Charles." That set him off. He was upset, "How dare you address me so informally?" He asked me to write a letter about how rude Generation X was or Generation Y, whatever you want to call me these days.
I had to do some research on Millennials and Generation X and write him this long explanation as far as how I am working towards being more respectful. I did that. It was a five-page paper. It ended up working in my favor because he was impressed with my writing and enjoyed the fact that I took the time to be that thorough in my research. It worked out, and I got into the program.
That was about a year's time, and then I applied a year later. I'll be honest with you. During the interview, it never got brought up. It wasn't like I was going to point it out, but at the same token, I was like, "If they ask about it, I'm going to own it and talk to them about it because I clearly fessed up and wrote the paper. I apologized. We ended up being on good terms via email after that experience."
It was one of those things where you can't hold it inside and hope that no one notices. If you make a mistake, whether that's in your essay, reaching out, or clinical, you have to speak up. That is the only way you can address it, learn from it, and move on. Don't let that scare you. I also want to be careful and check to make sure. If it does happen to you, there's still light at the end of the tunnel.
—
Future CRNA, here's a quick tip for your CRNA interview. If you apply, assume you will get asked to interview. Do not wait until you get that phone call or email to start preparing. Remember, these panels have interviewed hundreds of students over the years and can easily tell the difference between a candidate who is well-prepared and a candidate who is not. Preparation is not about memorization. It's about understanding. Understanding challenging concepts take time. It takes you building connections to existing knowledge.
CRNA School Prep Academy helps you build on existing ICU knowledge so that you are well-prepared for your interview. We offer mock group interview coaching with CSPA expert contributor in program faculty, Richard Wilson. These sessions take place every other month. Plan ahead and don't miss out. What are you waiting for? Get started and challenge yourself and your knowledge, so when you get that phone call, you will be excited and eager to show up and knock that interview out of the park. Learn more about CRNA School Prep Academy at CRNASchoolPrepAcademy.com/join. Cheers to your future.
[bctt tweet="Do not write your personal statement the week your application is due." via="no"]
—
Assessment Process
Let's get into how they assess your personality and how you interact with others. Essentially, whatever you place in this essay is going to be considered important by you. You wouldn't put it there if you didn't find it important. It's important to include information about you, as well as your accomplishments. You want to highlight things that you have done, awards that you have won, committees you have been a part of, and any research you have done so they can get a taste.
Think about it. Don't just regurgitate your resume. Some students make this mistake where they get listy in their personal statements. It becomes like a new fancy resume. You got to be careful that you don't do that, but if you did something special that maybe you want to highlight from your resume, then for sure talk about it, but know that you don't need to put everything from your resume there. Anything that's unique or stands out, mention it.
There are so many times where I had a candidate or students who got in, who maybe didn't the first time they applied. I look at their resume, and I can't gather the information I can get when talking to them. I'm like, "You've done all this amazing stuff, but your resume doesn't even highlight that. I don't even understand what this award is or what it means, but now you explain this to me. I wish I would've known that."
It's the same thing with your resume. You need to be going into enough detail to where they know why, what the award means, and what these certifications are. Use your essay to highlight that as well. There are a lot of things that people may assume that someone's going to understand or know, but don't ever assume that someone's going to know. You have to explain and highlight what you've accomplished.
You want to go into the fact that you've been on this path for a while and why you want to do it. Let's give you guys some examples of prompts. A prompt could be, "Share with me in a 500-word or less essay your short-term and long-term professional goals." They could say, "Describe your personal strengths and weaknesses that you see to be important in completing this educational program."
Maybe they don't give you a page length. Maybe they just give you that prompt, but do you want to write a five-page paper? Ideally, most programs are going to give you a length. Maybe it's two pages, but you want to still make sure, even if you have all this stuff to share, that you're being succinct, concise, brief, and to the point. Allow a lot of the details to happen when they interview if they want to ask you questions about your personal statement.
I also want to get into this: what if you have something that you feel is a shortcoming and how to address it. I've had a lot of students also tell me they've had a lot of success by being upfront. I call it addressing the elephant in the room by addressing a shortcoming. The reason why that can be so powerful is because they're looking at your resume, and they're already going to be asking the question. They were such a bad student in the beginning, and now, they've gotten one A in stats, but how do I know they're a serious student now? Address it briefly in your essay, and then allow them to ask you more questions in the interview and even bring it up.
"I know you probably saw this in my resume. I know I tried to describe it briefly in my statement." Address it. They may even ask you, "Tell me why you think you're a good student now when historically, you haven't been." Be ready to answer those hard questions because a lot of people have had traumatic things happen to them.
There are tons of stories that you can tell them, but you have to focus less on how you're moving forward from it and what you have done to grow from it. Richard has said this before, too. It depends on what mood he's in. When he reads an essay, he could get an essay that goes into all these details, and it could seem like they're giving excuses as to why X, Y, and Z happened versus a brief, concise X, Y, and Z and now this.
He or she is admitting to this flaw, and this is what they've done to overcome that, versus tons of details of X, Y, and Z that this caused this and this caused that. Make sure you're not taking up your entire personal statement by addressing one issue because you might miss out on other things you could highlight about yourself and not just focus on the negative. Keep in mind that you're getting this shot to give the interview panel an overall picture of you. If you have a shortcoming, that's just one part of who you are. That's not everything. They're understanding. They know a lot of students maybe didn't have a clear focus early on in this career path and didn't think they would go back to grad school.
That's a common thing that people hear about pursuing CRNA, "I thought Nursing was it for me. I didn't plan on going back to school. I was okay with Cs." That happened. You didn't have direction and a passion for CRNA, but once you discovered it, now you have found your passion and direction. Now you're being able to persevere through overcoming what you did when you were younger and didn't have as much direction on your career path by taking graduate courses, joining committee works, doing research, working at a great ICU, and explaining what you have done to make yourself a candidate that they will want in their program. That's what I mean.
Give them a little taste of some of your shortcomings without going into so much detail that you're taking over your entire paper because you want to make sure you're still highlighting the good things too. You don't want the whole paper to be about things that are more negative. Keep that in mind when you're highlighting your shortcomings and focus on where you're going with it versus what has already happened. That's my biggest piece of advice.
Editing Your Paper
I want to make sure that I touch on this too. You guys are giving yourself enough time to edit your paper and think about what you want to write. Sometimes it takes a while, and it requires you to take a break and come back to it to gather your thoughts. Think about it. You write a paper and like, "I go back and tweak it 4 or 5 more times." Maybe you even let some time pass, like a few days or so, and come back again. The thing is, what you do every time you do that is you stop and gather some insights around what you want to express and tell them.
Within 3 or 4 days, new insights come to you. They're like, "I should mention that. The reason behind that clicks. Now I can see how I can fit into their program based on their mission statement. I know what my professional goals look like that are also in line with the school's mission." You should know the mission statement. Start it with that.
When you're looking at how to start writing your personal statement, you should know your school and what they pride themselves on, what's in their mission statement, and what's important to them. You can also do this by going to their program, open houses, asking questions, and talking to students. Do your due diligence and research your school to make sure you're personalizing your personal statement to that program, which is also why you have to tailor it even if you're applying to 3 or 4 different schools.
[bctt tweet="Never write a personal statement for grammar. Do it for context." via="no"]
Even if it's the same prompt, you still have to tailor your essay to that school. I'm not saying you have to write a completely new essay, but make sure you're answering the prompt. Let's say you wrote a good personal statement for your number one choice school, and then you're applying to two other schools as a backup. Maybe that's what you're doing.
Maybe your two other schools have different prompts where you're like, "This essay is good. I know I made it great for this school. I'm sure it's going to be fine for that school." You submit it. They get it, and they're like, "It's a good essay, but you didn't follow directions. You didn't answer my prompt." Immediately, they're disqualifying you for not following directions. Don't do that to yourself.
Take the time to tailor it to what the school's asking. Why even bother applying if they're going to discredit you from the beginning for not following directions? You may be a good writer, and you may have a lot of good things to say, but because you think what you did is good enough for them, it may not be. They're still going to want you to follow directions.
It says to them like, "You don't care enough to rewrite and answer what we're asking you to write." They're going to not feel like they're your top choice school if that's the way you're treating it. If it is a school that you want to potentially get into, if you don't get into your top school, you have to treat it like the school you want to get into, which means you've got to give it your all-out effort.
Keep that in mind. I know it's more work, but you need to plan ahead. Do not write your personal statement the week your application is due. I know I've preached this before, but a lot of schools give preference to students who submit their applications early. You should probably be starting your admission statement at least 3 to 4 months out at a minimum, especially if you have more than one to do, because you could take a couple of months to tailor that essay and get feedback inside the academy. We have essay critiques that you can book one-on-one where they'll review and edit 1 or 2 essays. Take advantage of these resources.
We have students whose English is their second language. They struggle with writing, and they've utilized our essay critiques in the academy 3, 4, or 5 times, have an awesome essay, and have gained acceptance. They're still going to have to make sure that in school, when they are doing all their writing, they seek out resources if they're struggling writing their papers, but the thought process behind what you want to say is there. It's a matter of critiquing it to get it to read nicely. You have it within you to write.
Sometimes it takes some extra effort and tweaking to make sure you're conveying what you want to say to the reader. Another great resource that's free that I always recommend students to utilize, and I also know program directors frequently tell their students to do this course prior to starting the program, is a free writing course. It's through Coursera.
If you google Writing in the Sciences and then Stanford, because it's through a professor from Stanford, you will find it. I believe the platform they use is Coursera.org. It's called Writing in the Sciences. Check it out. Whether you've already gained acceptance or still trying to prepare for your personal statement, it's a great place to start because it goes over some basic writing style tips for you to take with you. Do that and utilize an essay critique in the academy.
Live Essay Edit
If it's something you're worried about, make sure you're having multiple eyeballs to take a look at your paper, whether that's your dad, sister, friend, peer, or coworker, getting an essay critique inside the academy. Make sure you're doing all those things to give yourself the best chance.
One cool thing we did inside the academy is we did a live essay edit.
We had a student of ours submit an essay for a live critique and Richard Wilson, who is our expert contributor and an Assistant Program Director, critiqued the essay live. You could watch what he's thinking through reading the essay, what was good, what was bad, and what he corrected, and then allow you to ask questions around it. Those types of experiences are only going to help you when you go to write your own essay.
Don't be afraid to swap with your peers. What's great about swapping with your peers is you will get ideas from their writing. Utilizing the academy and the forum to swap your essay, even if you're like, "I don't want to have to offer feedback for their essay," do it because you're going to gather ideas for your own essay. Believe me. You will find something for them that they didn't see. Maybe you can give them some advice they didn't recognize. Don't think what you have to offer is not valuable. You do have something valuable to offer. Even if you think you're not a good writer, read it for context and clarity. You don't have to read it for grammar.
If you're like, "I have terrible grammar. I can't proofread someone's essay," don't do it for grammar. Do it for context and content. Do you understand what they're passionate about? Do you know who they are a little bit more now that you've read their essay? That's the feedback you can give to them if you feel like you can't correct them on grammar.
Know that you have something valuable to give. It's valuable to do a swap. That's free. Pick someone from the forum to say, "I'll read your essay if you read mine. Let's do this." Utilize your community for that resource. I know I did that. Granted, I worked in the medical ICU, and I knew three other girls who were applying to the same program at the same time as me.
We had the same prompt. We read each other's essays. Why wouldn't we? We're friends. We're going to help each other out. Even if I hadn't gotten in and they got in, they would've helped me the next year trying to figure out how I could get in. We knew we had each other's backs, and we utilized that to our advantage. Make sure you're looking for opportunities like that. If you don't know someone else who's applying, try to go to these open houses and connect with the current student. They may be nice enough to read a personal essay for you or even show you theirs.
I also want to do a blanket statement. Don't copy people's essays. Do not do that. Even though there are a lot of applications that come in, take an essay from a student who got in the year prior, and if you were to take it and use it and tweak it to your own a little bit, they might recognize that. They may remember that essay, especially if it was good and unique. I highly encourage you not to do that. I'm not saying not to use an essay to get ideas. Be careful around that. That's not an easy way. That would be a mistake.
If you fess up to it, I don't know if they would overcome that because they would probably worry about you cheating in school too. I want to make sure I threw that out there. I hope you guys enjoyed this episode, and that it gave you something to think about. Best of luck to you in writing your own essay. I hope to see you inside the academy for fun things. The fact that we did a live essay critique, and utilize the students there doing critiques for you. I'll see you next episode.
Important Links
Get access to planning tools, valuable CRNA Faculty guidance & mapped out courses that have been proven to accelerate your CRNA success! Become a member of CRNA School Prep Academy here:
https://www.crnaschoolprepacademy.com/join
Book a mock interview, resume edit or personal statement critique:
Join the CSPA email list: https://www.cspaedu.com/podcast-email
Send Jenny an email or make a podcast request!